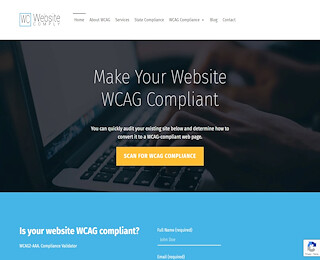 Website compliance is not only important for users with disabilities, but it's also important for getting your content ranked in the search engines. Today, search engines show heavy biases against Web content that isn't WCAG compliant. Website Comply is a service that works to get webmasters into compliance with these guidelines to provide a better experience for all Internet users and to help webmasters and website owners to reap the benefits and rewards of website compliance.
Website compliance, in short, means that your website can be used by the widest possible audience, including people with all kinds of disabilities. The four major disability types are seeing, hearing, motor, and cognitive. All of these four disability categories demand specific kinds of adaptations in a website's design. Most often, these adaptations are a benefit to all Web users, not just the ones with disabilities, making them a well worthy investment of time and resources.
What is W3C and WAI?
The World Wide Web Consortium (W3C) is an international community that develops open standards to ensure the long-term growth of the World Wide Web. Among the many things that they do is to develop accessibility standards. They do this through the Web Accessibility Initiative (WAI). WAI develops guidelines that are widely accepted as the international standard for Web accessibility.
The WAI website offers support materials to help understand and implement Web accessibility and tools and resources that were developed through international collaboration with the disabled community and allies. Their work began from the premise that all websites must be perceivable, operable, understandable, and robust. Armed with those four principles, the Web Accessibility Initiative has spent over 15 years developing guidelines by which to deliver such websites to everyone.
What are the Levels of WCAG 2?
WCAG 2 has categorized guidelines at three levels that represent the importance of each guideline. These levels are described as:
Level A: Things that must be done or some group will not be able to access the content.
Level AA: Things that should be done or some group will have difficulty accessing the content
Level AAA: Things that can be done to improve usability or enhance accessibility further.
How to Get My Website in Compliance
It is version 2.0 of the Web Consortium's accessibility and website compliance guidelines (WCAG 2.0) that both declare the standards we must meet and tell us precisely how to succeed in achieving them. Their website can be used as a checklist for all the WCAG 2 guidelines. It provides all the requirements, all the success criteria, lists of techniques to use to meet the requirements (which are linked to pages with descriptions, code examples, browsers, and assistive technology support notes), and tests.
It also provides a list of failures to avoid with which are linked to pages with descriptions, examples, and more tests. Understanding links to pages that explain the intent of the guidelines or success criterion, how it helps people with different disabilities, key terms, and resources.
If you don't have the time or can't understand how to implement these guidelines yourself, Website Comply is happy to help.