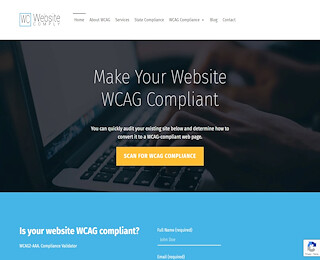 Accessibility implies that web content is made available to anyone, including the disabled. Since governments are pressuring business owners to make their websites more accommodating, you may have some homework to do.
What is WAI?
The World Wide Web Consortium has created a specific set of HTML + CSS guidelines to fit into international website accessibility requirements. The W3C has published its guidelines with subgroups like WCAG, ATAG, and UAAG.
The purpose of WAI is so that content is displayed and created to fit a wide variety of disabled users. This can include those with limited hardware access (like a mouse), text-to-speech software and the visually impaired.
With the Authoring Tool Accessibility Guidelines, standards have been set so that even the disable may publish content. This means that content management or submission forms will be built with website accessibility requirements in mind.
What role do content writers have in W3C Accessibility?
Computer programmers don't have the entire responsibility for website accessibility requirements on their shoulders. Writers, whether technical or bloggers, will need to keep in mind text to speech compatibility.
The W3C provides some general tips to how writers should start learning for website accessibility requirements. This includes using better headings for structure, making link text more meaningful, transcribing images and other media, and making instructions more concise.
What is the W3C Version 2.1?
The 2.1 version of W3C extends the website accessibility requirements from its original version made in 2008. This was introduced in June of 2018 and is about extending web content for the visual or audibly impaired.
What are the major categories of accessibility for websites?
There are multiple disabilities that have trouble using the internet. This includes the hearing impaired, the blind, lack of motor abilities or poor cognitive function. With smart web development, it may be possible to make websites usable by just about anyone.
These disabilities are also determining the way web content should be created. It should also be noted that these changes also make content easier to consume for regular people, not just the disabled or elderly.
Cognitive disabilities, which includes ADD or learning disabilities, is quite a challenge for the tech field. In loose terms, it includes anyone that has trouble processing or interpreting content on a website. Many of these disabilities have much research to be covered to be fully understood.

One thing to consider with cognitive disabilities is the memory retention of a website. With long-term or short-term memory impaired, things like reminders or recaps would be good for a business to include for clients. There should also be design features that help users focus on certain parts of the page as these patients have trouble working on one task.
The ability to solve problems or navigate is another notable problem. If your website requires lots of searching around for links, 404 pages that lead nowhere or advanced calculations to be made, consider making algorithms to guide users.
Overall, implementing many of the new accessibility standards will benefit the integrity of the internet in the long-run. If you need help bringing your business up to code, consult with us and we'll analyze your site.