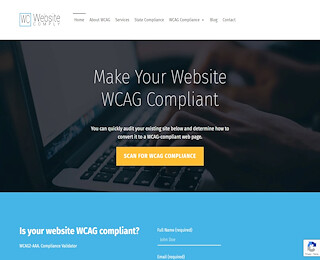 When creating a digital business, most owners focus on creating stunning and engaging sites that captivate followers. However, little effort is made to make their pages easily accessible to users. People think that website accessibility only generates useless development costs.
Besides, there is a myth that making a portal accessible will only benefit people with disabilities. That is why it is vital that you know what accessibility of a portal is, and the great benefits it will bring to your business.
What is Web Accessibility?
It is about allowing people with some disability to make use of a page. For this, you must create a design that will enable these users to perceive, understand, navigate and interact with your portal. The disabilities covered by this concept include visual, hearing, cognitive, physical, neurological and speech problems.
Does Web Accessibility Only Benefit People With Disabilities?
Certainly not. In the broadest sense, making a portal accessible allows it to be usable by the maximum number of people. In other words, even when a user does not have a disability, they can interact fluently with a website regardless of their intellectual capacity, knowledge or personal abilities.
Making a portal accessible will also allow users to interact with your website regardless of the technical characteristics of the device from which they are accessing it. However, not only users benefit from making your site accessible. This will bring significant benefits to your business.
What Benefits Does Web Accessibility Bring To Your Business?
One of the great achievements of making a website accessible is that it will significantly improve your positioning. To understand this, you must have in mind the words of Steven Pemberton, Chair of HTML and Forms Working Groups, W3C: "Your most important user is blind. Half of the visits to your site come from Google, and Google only sees what a blind person can see. If your site is not accessible, you will have fewer visitors. End of story."
In other words, an accessible portal makes it easier to engine spiders to track and index it. Thanks to this, it more straightforward for search engines to position your content on the SERPs. These are other benefits that you will achieve with this improvement:
Increased Market Share and Audience: since the portal will allow the interaction of more people, including seniors and disabled. Also, your content can be accessed in multiple formats, devices, and languages.
Improves efficiency and response time: it better manages the load on the server, as well as bandwidth. It also makes it easier to search for content on the site, and in the long term reduces development and maintenance costs.
Social responsibility: by showing concern that everyone has access, you will reinforce your corporate image. This will allow you to differentiate yourself from your competition, and will also increase your likelihood of becoming an influencer.
Which Is The Best Way To Achieve Website Accessibility?
If you want to improve the accessibility of your website, the wisest thing is to have an excellent team of specialists. Website Comply has been for years the leader in achieving that its customers meet the adoption of WCAG standards. Our goal is that you can boost your business thanks to having a WCAG-complaint portal at the most affordable price. Contact us.