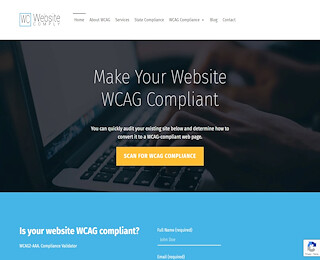 Website accessibility tools help in determining the efficiency of a website in meeting the set accessibility guidelines of the nation and state. Better accessibility allows the population with special needs to have equal opportunities online.
These evaluation tools improve the performance of the site and the business' overall ranking. They also improve revenue generation due to consistently high traffic.
Websites that have an excellent accessibility rating improve traffic. The United States received the final accessibility regulations in 2018. These rules follow the international accessibility standard and adhere to a group of human rights stipulated in the Web Content Accessibility Guidelines.
Website Comply provides standardized website ratings to help site owners improve the outlook and operation of the site. We also work with you to develop any standing faults in WCAG. Our team advises that everyone who has an online platform should look into making worthwhile adjustments on accessibility. Here are a few benefits of using a highly performing WCAG tool:
It enhances the SEO of the site
It improves competition in the digital market
Special needs people have an equal place in society
It allows the site owner to increase sales
The tools retain consistent traffic because people see the responsiveness of the layout and functions
It decreases bounce rates
Benefits of evaluating with a WCAG tool
Tests keyboard friendliness
In simple terminology, a good accessibility rating will usually have a setting that allows the site to get access without a mouse. Assistive technology prioritizes the use of the keyboard to help people with impairment of sight. You need to have a website that will respond to functions of the keyboard, to load links, content, and pages.
The goal of keyboard friendliness is to enable complete operation using the 'Tab' key. Website Comply employs designs that respond to the 'Tab' key with ease and speed.
Navigation
A natural website structure with intuitive menus and pages is easy to navigate. The hierarchy of information helps in giving a stylish look and maintaining the right accessibility. Our programmers test the HTML markup, CSS style sheet, and other codes to ascertain the efficiency of the navigational setup.
The tab index is a crucial part of a site. It will give easy access to candidates who may have impairment in filling out forms throughout the site. Precise movement helps in going over radio buttons and checkboxes.
Media
Automatic media has been a turn off since the launch of MySpace. A video that begins to play after you load the site is annoying and frustrating to a disabled person. They may not be able to turn it off and will eventually leave the website for a more accessible alternative.
Another hindrance from the insertion of media is the use of slides and carousels. Some people need extra time to absorb information and will feel defeated when they have to pause a section continually. Website Comply compiles all these media complications and sets up alternatives that will augment accessibility for everyone.