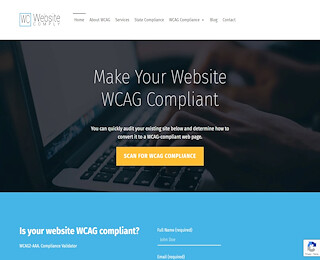 Web Content Accessibility Guidelines (WCAG) compliance is essential for any website on the Internet today. WCAG provides a shared standard for Web content accessibility that meets the needs of individuals, organizations, and governments. Web content accessibility guidelines are intended to be used by Web developers, Web authoring tool developers, Web accessibility tool developers, and anyone else who wants or needs a standard for Web accessibility.
In plainest language, WCAG exists to provide a better and more equal experience to disabled Web users. Web content that is WCAG compliant is rewarded on search engines today heavily compared to sites that are not WCAG compliant. There is a lot that goes into being WCAG compliant, and if you are new to the subject, it may be very confusing. If you need help, Website Comply can get your content in compliance quickly and affordably. Contact us today, and let us be of assistance.
What are the Guidelines of WCAG?
Web Content Accessibility Guidelines have 12 guidelines and 4 principles. The first principle is Perceivable. This means that the interface components must be presented in a way that users can perceive them. For example, this includes alternative text for images, alternatives for time-based media (such as captions), adaptable content, and distinguished content, which is using color contrast.
The second WCAG compliance principle is Operable. This is referring to the components of the interface. For example, the navigation should be accessible by keyboard without keyboard trap and provide users enough time to read and use the content.
The next principle is Understandable. This means the operation of the interface must be understandable. For example, consistent navigation should be provided. The section of the user interface components shouldn't change unless the user has been advised.
The fourth and final principle is Robust. This means that content must be robust enough that it can be reliable for users using different assistive technologies. Not accessible in today's Web is no longer acceptable.
What are the Levels of WCAG Compliance?
The most recent WCAG guidelines come in three flavors- A, AA, and AAA. Each level requires a different amount of effort to maintain that compliance, but it also makes it much easier for people with disabilities to use. You may have something as simple as a video embedded on your website. If someone is visually impaired, they're not able to see that video. Something that would match Level A compliance would be something as simple as creating an alt tag or explaining what the video is.
AA compliance would actually contain some captioning for the video itself throughout. AAA compliance would be creating an alternate media type or including an audio and text description of what is occurring in the video as well any of the other audio that is being played. This way anyone who is visually impaired will not be missing out on much in terms of content.
Contact Website Comply today if you would like to make your Web content WCAG compliant.