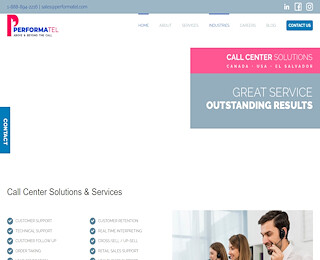 Hire a call center specialist that can free up your employees to perform the duties you hired them to accomplish. If your high-traffic call needs force workers to leave their stations and man the phone lines, Performatel has an affordable solution to deal with overflow calls, seasonal increases in incoming calls, and other voice-on-the-line need. Our call center solutions include live agent phone answering for both inbound and outbound calls- and so much more.
Do I Need to Hire a Call Center?
If your receptionist is feeling overwhelmed or you have to designate personnel from other areas of your company to take calls when it's not a part of their work description, you may have a problem that calls for a new strategy. You don't have to fear rapid growth or sales increases when you reach out to Performatel for a cost-effective solution. Our live agents, provide clear & concise communication to your English-speaking customers, as well as real-time interpreting to overcome the language barrier. We have a lot to offer at a very affordable cost:
Live customer service
Inbound and outbound call management
Customer follow-up & retention solutions
Tech support
Retail sales support
Complete service to sales
Live Chat
SMS & Email
Social response & internet relationship management
Voice of the Customer programs
How Much Does it Cost to Hire a Call Center?
Prices can vary significantly when shopping around for an attentive call center that can meet all of your needs. At Performatel, we take a great deal of pride in offering our clients affordable packages inclusive of the services they need. If you're working within a strict budget or wish to keep costs down to a minimum, reach out to us to discuss a customized package that reflects your call center needs. Our goal is to help you better connect and communicate with customers and clients without interrupting your flow of business. We use both live agents and AI to deliver exceptional quality without going over your budget.
We Help Businesses Grow
Today's consumer is looking for a superior customer experience when they reach out to a company or corporation looking for answers, inquiring about products, or leaving feedback regarding a past purchase. We can help you provide a rewarding connection to your callers. If your current call center is located in India or the Philippines, it may be difficult for callers to understand how agents want to assist them, or how to follow instructions correctly. Performatel clears up the communication with highly-trained live agents and intuitive artificial intelligence solutions that leads to a more positive interaction.
Live customer service provides the following benefits when callers reach out to your company:
Fewer misunderstandings
A higher customer retention rate
Positive brand reputation
Cost savings
Multilingual assistance to callers
A friendly voice on the line 24-hours a day
Customer satisfaction
Increased sales
Smart tech support assistance
Streamline order taking
Inbound/outbound calls covered
And so much more
Performatel
1-888-894-2216
2600 Skymark Ave. Suite 102
Bld #3 Mississauga
ON
L4W 5B2
US