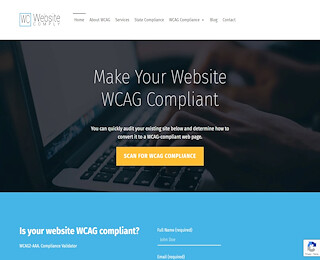 What is ADA Web Compliance?
The ADA of 1990, or Americans with Disabilities Act, explicitly prohibits online discrimination based on disability. Recent legislation has upgraded to include innovative technology and certain forms of communication under the ADA act, such as websites. If your site is not compliant with new ADA code, you could face fines and legal interruptions to your business. Website Comply specializes in keeping our clients up to current ADA codes, offering a free WCAG Compliance scan on our website to look for common compliance issues.
Is ADA Compliance Mandatory?
Private Sector Business Compliance applies to small businesses with at least 15 employees, so the laws may not affect your website. The best way to find out is to reach out to a compliance specialist, like Website Comply, with your questions and concerns. Rather than asking whether it's mandatory to comply with the codes, why not instead ask how you can stay compliant with ADA law? Compliance is affordable and will improve your website's visitor experience.
What is an ADA Violation?
The law requires that website owners make special accommodations for visitors who are hearing or sight impaired or have physical or learning disabilities. Site auditors look for website elements that make it possible for disabled persons to access your website's text and pictures. You can learn more about our services when you explore our site or connect with a Website Comply technician who can answer your questions. It's not worth risking a code violation and fine when compliance is affordable. Consider a few additional reasons why your website should be ADA Compliant:
The risk of an ADA violation is high- you could be dealt a lawsuit for reluctance to comply with ADA standards.
ADA compliance widens your target audience, improving viable leads and potential sales.
Compliance with ADA codes improves your digital marketing efforts.
Staying compliant improves your online reputation- and let's face it, what business couldn't benefit from better rapport?
ADA Compliance improves your visitor experience, which should always be the goal of a website creator.
Why is ADA Compliance So Important?
The deadline has passed that allowed a safe harbor for website owners working on getting up to speed on compliance. Being found outside of compliance could easily result in an ADA violation that could red flag your website and interrupt your online marketing campaign. You can avoid the risk of having your site closed down temporarily or permanently by speaking with our team from Website Comply.
How Can I Find Out More About Avoiding an ADA Violation?
Scan your website for code violation online at Website Comply and reach out to us if your site displays any errors that would indicate it's not entirely up to code. Simply type in your Website URL and scan our Compliance Validator for WCAG2-AAA compliance. You can read about the consequences of violating the new guidelines right on our homepage. With lawsuits specifically targeting businesses with out-of-date websites, it's more important than ever to focus on compliance.