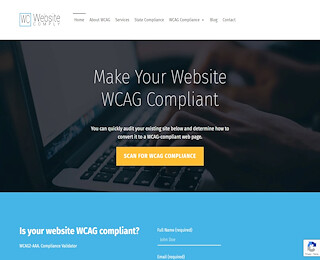 The ADA was intended to make large websites more accessible for those with disabilities. For webmasters, an ADA lawsuit is one of the last things you want to worry about. If you don't want to deal with the tedious or technical details, it is probably a good idea to hire a professional to check things out.
Are ADA lawsuits common?
Thousands of websites with businesses based in the United States have been sued due to lack of compliance. In just 2018, over 5,000 Title III ADA lawsuits were filed against local businesses. For big businesses, fines amounted into six-figure sums. Even government agencies weren't spared from compliance regulations, setting the precedent that all web developers should be well-versed in ADA compliance.
What does ADA compliant mean for websites?
The basic idea is to create a website that is accessible to those with disabilities. This can extend from fonts, layouts and even the way content is written. Consider your website to be a public space for your business. Just the same way you would install wheelchair ramps in a public area, you will also want to make your website accessible for those having trouble using technology.
One example is writing content that works well with text-to-speech software. It can be quite tricky to optimize, which is why content should always be tested with certain tools or browser plugins. This will assure that both readers and listeners will have a fair way to obtain information.
You may also have to make your text zoomable and scaled to a certain size so that the visually impaired can read it. This will also apply to published PDF files relating to vital business operations.
There are also physically impaired individuals that cannot operate a mouse. This is why you should design your website with keyboard shortcuts.
Can ADA Compliance Affect SEO?
Search engines are actually starting to flag of websites that are friendly to the disabled. This may start affecting aspects that were otherwise overlooked, including meta tags and video transcriptions. If you rely on search engines to drive traffic to your business, it is worth looking into.
Do all businesses need to be ADA compliant?
Small and large business owners apply to the regulations of ADA. There are also provisions for local government establishments and websites. This means that if you own a small business, your website may be considered a public space and you are susceptible to an ADA lawsuit.
Title III of the ADA is what will specifically hit small business owners. Not only would they have to make their local building accommodating, but their website will also have to meet some minimum requirements. Fines are used as a barrier to business so that non-complying businesses are forced to make changes to continue operation.

Following the ADA isn't so easy if you lack technical skills or a thorough understanding of the law. You should stick to relying on professionals so you don't end up with an ADA lawsuit. Consult with us for an audit via our contact form.