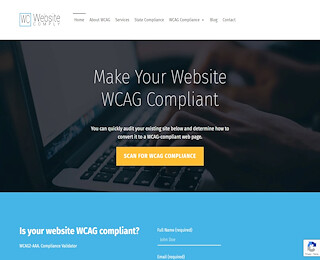 If you ever work with a large company, ADA compliance is likely an issue that comes up. Since the accessibility of the disabled is a huge issue, the government is trying to apply old regulations to correlate with web development. If you are not a web developer, you should likely hire both coding and legal experts to make sure your company does not end up in trouble with the law.
What does ADA even mean?
ADA is a reference to the American Disabilities Act. ADA compliant is likely a familiar branding found on large corporate websites. In the IT world, it is a broad definition of site optimization so that it is relatively handicap-friendly, fitting in with most of the guidelines.
What is most important is the latest Standards of Accessible Design that was published in 2010. This was put together so that domestic tech companies will start to design with the disabled in mind. Websites that are obliged are ones frequently used as if it were a public space.
Is ADA compliance mandatory for my website?
It is broadly defined as a website is a public accommodation that a website needs to friendly for those with disabilities. If your website deals with B2C relations at a mass scale, it would likely apply to you.
Compliance is determined by Title III of the Americans with Disabilities Act, which wasn't even about websites in the first place. As courts are modernizing, regulations are expanding into the digital zone.
What is the minimum to become compliant?
The WCAG 2.0 document has a long list of requirements to abide by, so it isn't exactly easy on the surface. Fortunately, most websites using a CMS will already cover a large portion of those regulations, so it comes down to a few fine details.
For the visually impaired, the website must have a minimum contrast ratio. This will have to be taken into account with one's design as change font sizes can completely ruin a theme. Text scaling must be optimized to be zoomed at twice it's size, adding another design challenge.
You also will need to optimize your website so that it works well with screen reading software. It may require some testing and play around with copywriting and keyword navigation on your website.
What are the Web Content Accessibility Guidelines (WCAG)?
The WCAG is a set of guidelines defined by the W3C, which maintains international standards for the internet. As the WCAG is what most developers go by, this is the first place to look when auditing your website to fit ADA guidelines. The government even encourages webmasters to go by the WCAG.
What is P.O.U.R?
P.O.U.R is a popular acronym describing the aim of developing for ADA compliance. It should be perceivable, operable, understandable and robust. An experienced web developer would know how to apply this concept.
Keeping up with ADA guidelines is quite stressful, which is why you should hire professionals to handle things. If you fear that your website doesn't meet the minimum requirements, get started with a WCAG compliance scan on our website.